Cross-disciplinary CNDS commentary accepted for publication
2018-03-15
The commentary argues for the integration of the two major approaches to DRR, with focus on hazard and on vulnerability respectively, by proposing a new research framework. The list of authors includes CNDS researchers from a wide range of disciplines, reflecting the interdisciplinary collabortaive work being conducted at CNDS.
We asked Professor Giuliano Di Baldassarre, Director of CNDS and one of the researchers behind the commentary, to tell us more.
"We have collected a diverse community of social, engineering and earth scientists to analyse the global trends in economic losses caused by natural hazards and collectively we have written a commentary proposing a new research framework for disaster risk reduction."
Can you tell us a little bit about your findings?
"Our commentary identifies three main puzzles in the nexus of natural hazards and vulnerabilities, and demonstrates how novel approaches are needed to solve them with reference to a flood risk example. Specifically, we show how a new research framework can guide systematic data collections to advance the fundamental understanding of socio-natural interactions, which, we argue, is an essential step to improve disaster risk reduction through evidence-based policy-making."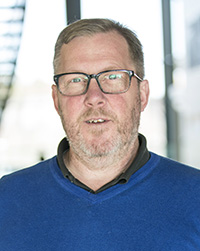 CCS director Professor Mikael Granberg is another of the researchers behind the commentary. Mikael says:
"The commentary is the result of a truly multi-disciplinary process in the guiding spirit of both CNDS and CCS. Also, the focus on creating knowledge to improve evidence-based policy-making for disaster risk reduction is close to the core focus of both CNDS and CCS."
Congratulations to all those who contributed to this fantastic achievement. We look forward to seeing how the research framework will be put to test!